UDO BRITISH DANCE FESTIVAL 2023
Winter Gardens, GB
March 17th 2023 - March 19th 2023
EVENT INFORMATION

The UDO's British Dance Festival is THE greatest platform to showcase your dancing talents here in Britain.
On 17th March 2023, Dancers across the British Isles will unite together over this fantastic weekend to compete for prizes, prestige, British Champion titles and qualification to the major UDO European and UDO World Championships 2023!
We welcome all ages and abilities & pride ourselves on providing an enjoyable, supportive and family friendly atmosphere at this event.
There will be UDO British, UDO Encore, Exhibition Arena, Performance Stage, Workshops, Masterclasses and so much more!
For further information on the Encore side of the event, please follow link below:
FOR BRITISH DANCE FESTIVAL 2023 YOU WILL NEED TO QUALIFY.
To qualify for UDO British Dance Festival 2023, you need to do one of the following;
- Place in your category at British Dance Festival 2022 (UDO & Encore Categories)
- Attend a UDO regional and place in your category (Street Solos, Duos, Trioquads, Teams, Supercrews)
- Attend a UDO 2.0 Regional and place top 4 in Battles (This is specific to the style you place in)*
*Please note not all 2.0 Events have battles in so check this with UDO Staff prior to the event.
- Attend a Encore Regional
Encore Duo Categories: Commercial, Contemporary & Musical Theatre/Jazz
Team Categories: Commercial, Contemporary, Musical Theatre/Jazz (Now Combined)
British Dance Festival 2023 is also a qualifier for UDO EUROPEANS (UDO Dance Stars & Street Competition) & UDO WORLDS 2023 (Street Dance ONLY)

To qualify for Worlds & Europeans;
You will need to place TOP 5 in your category to qualify for EUROPEANS 2023
You will need to place TOP 3 in your category to qualify for WORLDS 2023


WORKSHOPS
We pride ourselves in providing the best lineup of Choreographers and Judges across the UK to attend this event. We want to ensure we offer dancers the best training at our events. Our workshop lineup for 2022 consisted of a variety of AMAZING Choreographers including; Mr Youtube, Home Bros, Josh Pilmore, Lukas Mcfarlane and so many more!
Our Workshops for 2023 will be bigger and better than ever. Keep an eye out on our socials for next years lineup.
TrioQuad & Duo Music
The music for Trioquads and Encore Duos has not yet been decided for British Dance Festival 2023. These will be announced after UDO Worlds 2022 as this is when the music will change.
Itunes links will be uploaded to the website for you to practice.
Our Trioquads are split into 4 categories (U10, U14, U18 & O18)
Our Encore Duos are split according to style and ages.
- STYLES: Commercial, Musical Theatre & Contemporary
- AGES: Mini's (Under 8) Juniors (8-11) Teens (12-16) Senior (16+)
*If there is a large amount of entries in each age division, we will split these into beginner and advanced.


EARLY BIRD TICKETS ARE NOW AVAILABLE TO RESERVE FOR BRITISH DANCE FESTIVAL 2023!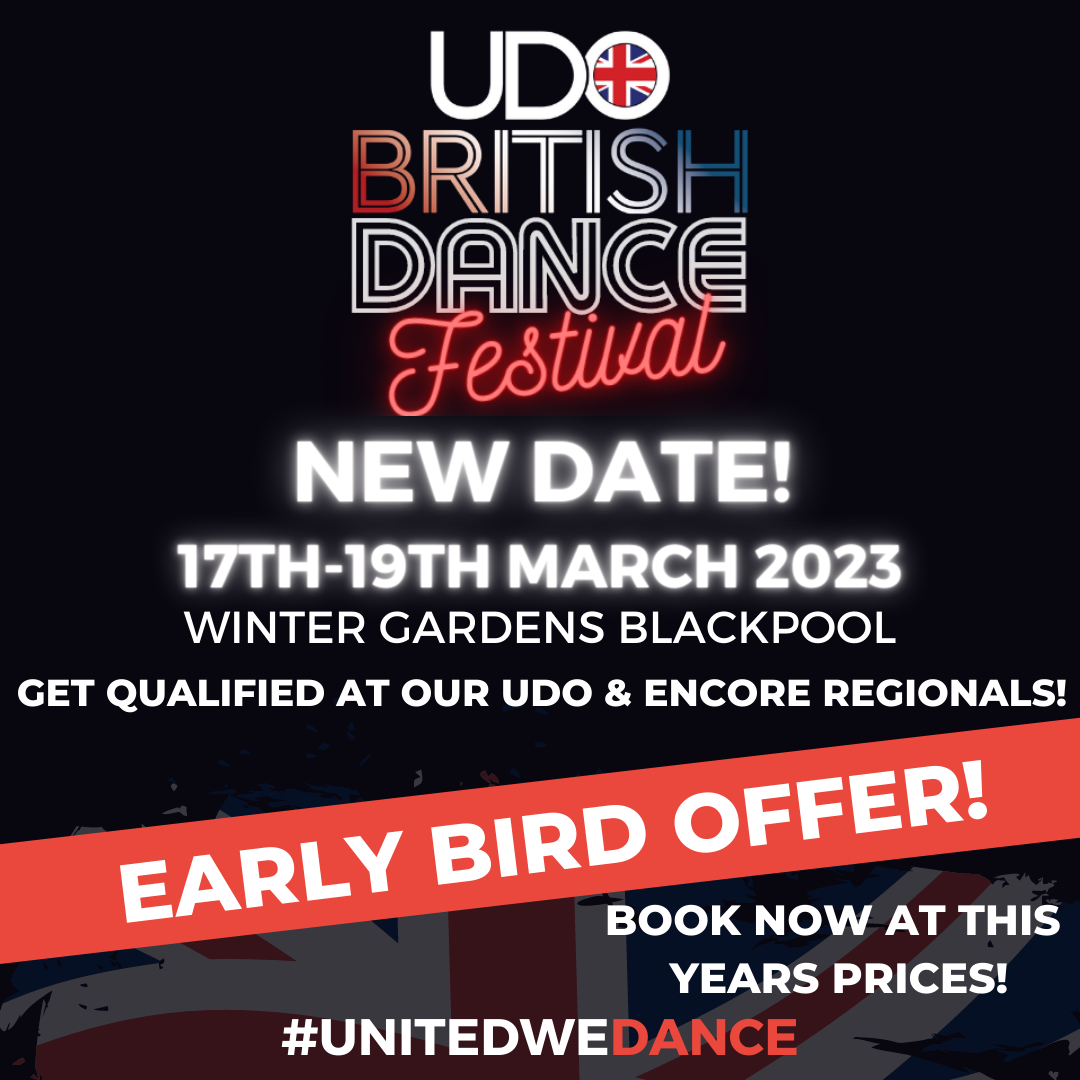 If you would like to reserve your tickets for UDO British Dance Festival 2023, then please email hello@theudogroup.com
Early Bird tickets are available until 30th November 2022.
We look forward to seeing you at our events.
PLEASE ENSURE ALL TRAVEL AND ACCOMMODATION YOU BOOK IS REFUNDABLE OR TRANSFERABLE!
Location has not been revealed yet.
Check back soon!
May
29
2022
Scotland, GB
UDO SCOTTISH 2.0 CHAMPIONSHIPS 2022
Jun
12
2022
Bracknell, GB
UDO SOUTHERN STREET DANCE CHAMPIONSHIPS 2022