UDO EUROPEAN STREET DANCE CHAMPIONSHIPS 2018
GERMANY, DE
May 11th 2018 - May 13th 2018
VENUE: Wunderland, Griether Strasse 110-120, Kalkar, Germany, D-47546 KALKAR
DATE:
Friday, 11th May 2018
–
Sunday, 13th May 2018
QUALIFIED? REGISTER NOW – DON'T MISS OUT!
This is your chance to be crowned a 2018 European Street Dance and Hip Hop dancing Champion!
EVENT INFORMATION
Now in its 8th year, this is an electrifying event that plays host to some of the hottest dance crews in Europe, and is packed full of excitement, outstanding performances, and judges' showcases.
This is your chance to join the most outstanding dancers from across Europe and to compete for coveted championship titles, trophies, prizes, and prize money.
Over 150 crews compete to be crowned European Champions, and winning Advanced crews gain complimentary entry to the UDO World Street Dance Championships 2018!
OVER €10,000 IN PRIZES!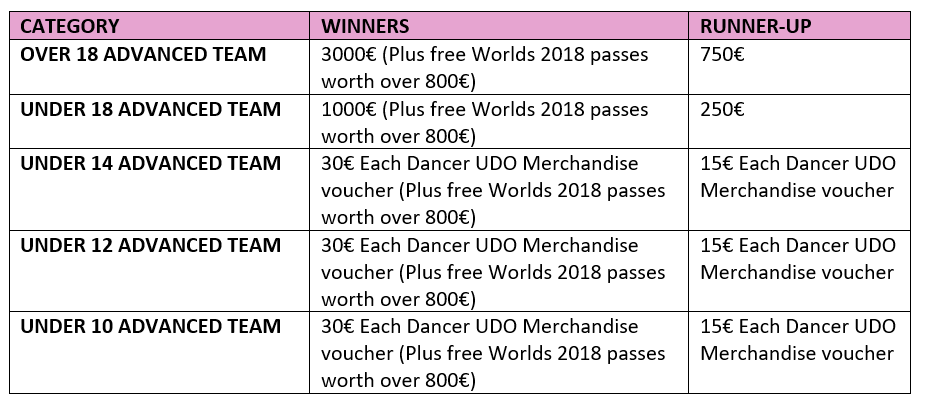 CATEGORIES
Solos
Duos
Teams
1v1 Battles (Hip Hop / Breaking / All Styles / House) £5 per style on the day
VIEW SCHEDULE (FINAL):
EVENT DETAILS
Please note: All pre-ordered tickets need to be paid for in full by the 23rd April 2018.
Tickets ordered after this date will be charged at the full rate of £72 per ticket.
Tickets are available on the door priced £72 per ticket.
If you are attending, don't forget to pre-register your teams and dancers that will be competing online – we will NOT be accepting any registrations on the day.
ACCOMMODATION & TRAVEL INFORMATION
NOT QUALIFIED YET?
We hold qualifying events across Europe and the UK. Click the buttons below to find qualifying events local to you.
See you all in Germany!
PLEASE NOTE: Online ticket sales are now closed. Tickets can now be purchased at the venue from UDO Reception in the Kalkar Halle.
You can pay with card for the exchange rate set by your bank, or you can bring British Pounds for exact ticket price. Alternatively cash Euros costs are calculated using the post office buyback rate of 1.3 Euro to GBP.
Mar
05
2023
Peterborough, GB
UDO EAST ANGLIA STREET DANCE CHAMPIONSHIPS 2023
Mar
05
2023
Paisely, GB
UDO GLASGOW CHAMPIONSHIPS 2023