UDO OUDENAARDE 2019
Salons Mantovani, BE
March 17th 2019
EVENT DETAILS
This is a Qualifier for UDO Dutch Championships, Belgian Championships, European Championships & World Championships 2018-2019.

All levels are welcome from Beginner to Advanced; with different age and ability categories available.
Categories:
Solo
Duo
Teams
Extra:
First Timers
Doors open+registration: 8.30hr
Competition Schedule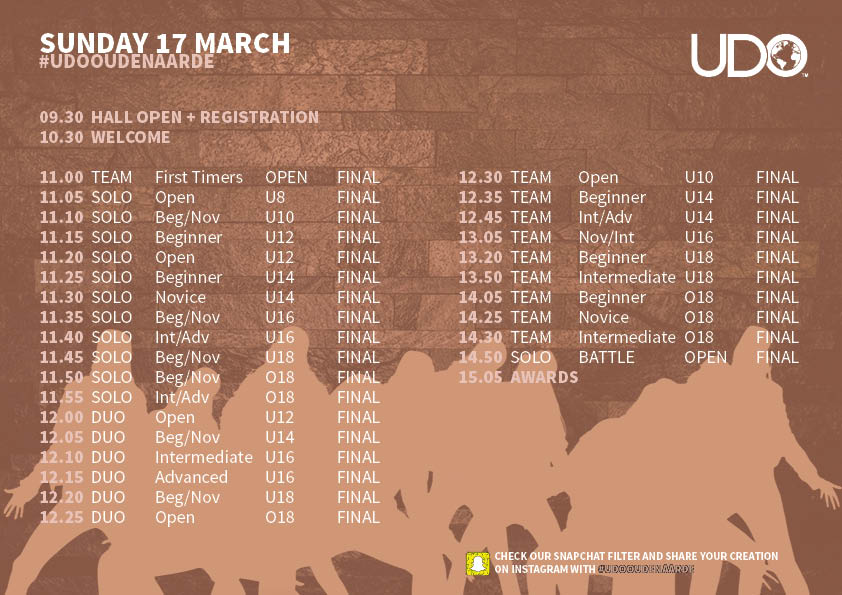 *Team music must be entered onto the website when registering your team
*Please bring a CD or USB to the event as back up.
Tickets:
€ 10.00 e-ticket up to WEDNESDAY 11 DAYS BEFORE the competition 23.59hr
€ 12.00 e-ticket up to WEDNESDAY BEFORE the competition 23.59hr
€ 15.00 e-ticket from THURSDAY BEFORE the competition 21hr or AT THE DOOR
Aug
22
2019
Blackpool, GB
UDO WORLD STREET DANCE CHAMPIONSHIPS 2019
Sep
22
2019
Perth, GB
UDO Central Scotland Street Dance Championships 2019