Competition Rules & Judging Criteria
The United Dance Organisation sets the highest level of street dance competition standards.
UDO has the fairest competition rules, registration criteria, and scoring system. Our competition rules are expertly determined by our Advisory Panel, composed of World-leading dancers.
By competing at any UDO event, you can be confident that you will receive the most comprehensive judging, adjudication and scoring for your performances across all competitions and categories. UDO does not tolerate the bending of rules, falsification of entries, or cheating. We work hard to ensure fairness and transparency. Ultimately, we aim to give you an amazing competition experience at our dance events.
For information about our Head Judges, the UDO Competition Advisory Panel, and your competition judges for 2017–2018, please see the Judges page.
UDO UK Rules
UDO UK: How to Qualify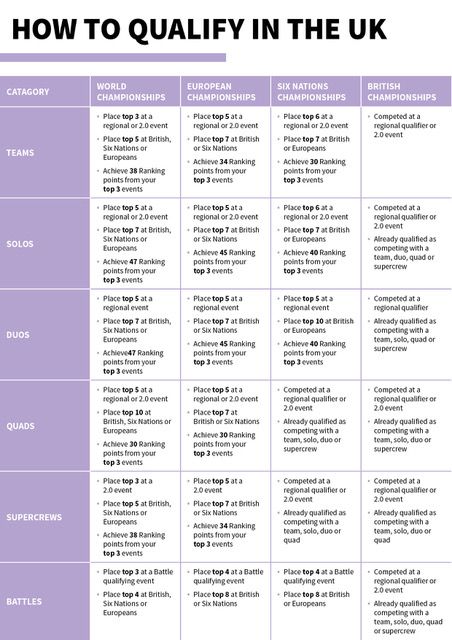 UDO Scoring & Ranking System
Here we comprehensively explain the UDO scoring and ranking system. There are a couple of updates for 2018; please see the Competition Criteria Changes video below.
If you have any questions, please see our FAQ page or get in touch and we'd be happy to answer your queries: hello@theudogroup.com
UPDATE!
UDO Competition Criteria Changes for 2018
Calling all dance teachers... After listening to your feedback over the past few months we can confirm that we've made positive changes to the judging criteria, which commenced as of January 1st, 2018.
Here's a video of our awesome resident MC Dwayne, to give you an exciting overview of the changes. We hope these developments will enhance your competition experience.
We sent an email to all our UDO Member teachers on December 22nd 2017, but incase you missed it, please download the UK or International Rules above for complete information and guidance.
If you have any questions, please contact us and we'll be happy to help you.
Qualification & Rule Differences By Country
Please note that qualification criteria, rules and rankings can vary slightly from country to country.
For more information, please contact your country representative, or view your country's UDO website for more information.
If you do not have, or know, your country's representative, contact the UDO head office by email, stating your country and query: hello@theudogroup.com