UDO BE

NE

LUX
Streetdance Compétitions en Belgique, aux Pays-Bas et au Luxembourg
UDO CORONA NEWS UPDATES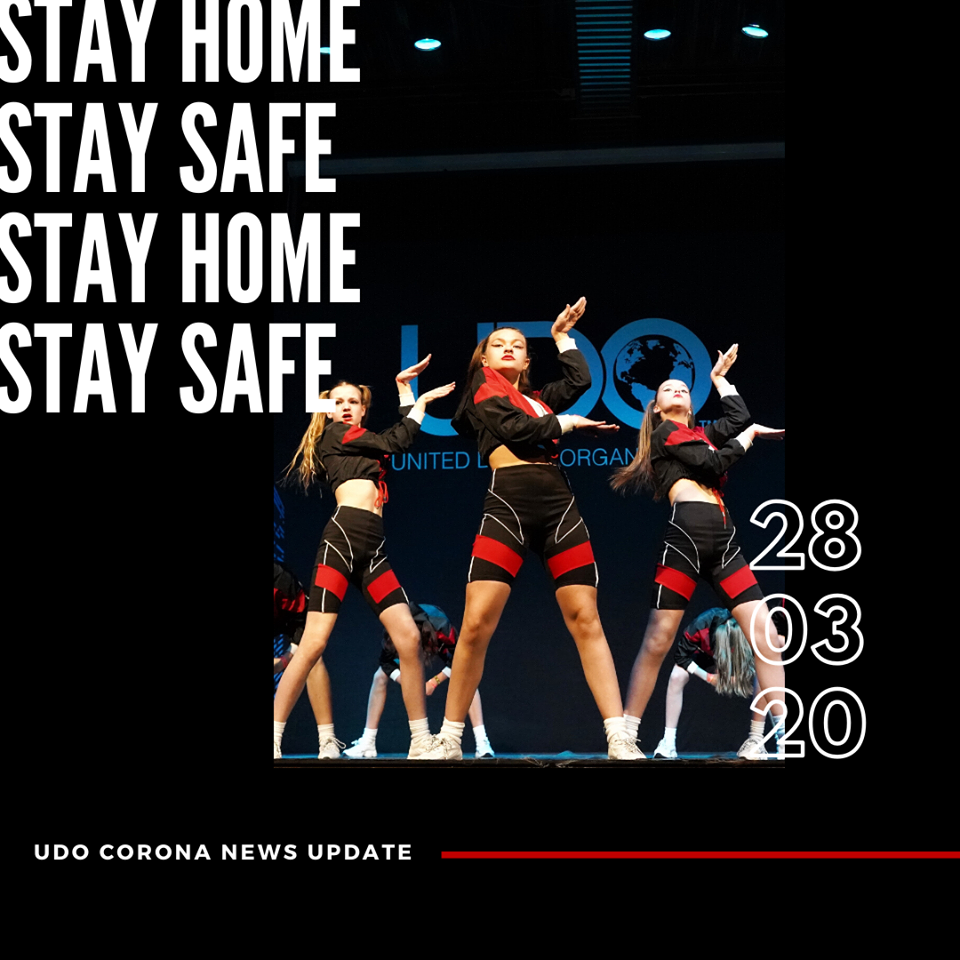 30-04-2020
Bonjour UDO famille,
Après la conférence de presse du 24 avril, force est de constater que le championnat de Belgique UDO et UDO Bobbejaanland ne pourra pas continuer à cause du virus corona.
Cliquez sur le lien pour lire la newsletter
28-03-2020
D'abord nous espérons que tout le monde soit en bonne santé!
Il y a un mois, les nouvelles annoncaient la diffusion européenne de ce virus. A l'époque, cela a été rejeté comme risible, mais cela a changé en une affaire sérieuse et grave en quelques semaines. Résultat: une annulation complète de tous les événements. Les gens n'étaient pas encore convaincu et notre gouvernement a dû introduire des règles strictes: la raison pour laquelle il était interdit d'organiser des événements en Hollande jusqu'au 1er juin.
En Belgique, le gouvernement a également réagi rapidement: une introduction des mesures strictes et cela 2 jours avant notre compétition à Oudenaerde! Actuellement, ces mesures sont toujours valables jusqu'au 19 avril, mais nous nous attendons à ce que ces mesures soient étandues.
Nous avons préparé une lettre avec les questions les plus fréquemment posées que nous recevons en tant qu'organisation. Nous espérons vous informer tous de la situation actuelle.
Cliquez sur le lien ici pour voir notre bulletin de questions fréquemment posées

UDO COMPETITIONS REGIONALES
ALL YEAR | BENELUX

B2S BATTLE
ALL YEAR | BENELUX

UDO BELGIAN CHAMPIONSHIPS
MAI 09–10, 2020| ANTWERPEN, BE

UDO DUTCH CHAMPIONSHIPS
AVRIL 25–26, 2020| DRUTEN, NL

UDO MASTERS NL
SUMMER , 2020| SLAGHAREN, NL

UDO MASTERS BE



SUMMER, 2020|LICHTAART, BE
Join UDO for
FREE!
Si vous etes membre vous pouvez vous inscrire aux compétitions UDO.
ET……………
Restez informer des dernières NOUVELLES!!!
NEWS & PRESS
Read all the latest stories from around the UDO community.
See if you, your dance school or crew have made it into the media or on TV by checking out our press gallery.
From the media? Find all our official Press Releases.