UDO RAAMSDONKSVEER 2019
Koloszaal, NL
March 30th 2019 - March 31st 2019
EVENT DETAILS
This is a Qualifier for UDO Dutch Championships, Belgian Championships, European Championships & World Championships 2018-2019.

All levels are welcome from Beginner to Advanced; with different age and ability categories available.
Categories:
Solo
Duo
Teams
Doors open+registration: 8.30hr
Competition: 10.00hr - 20hr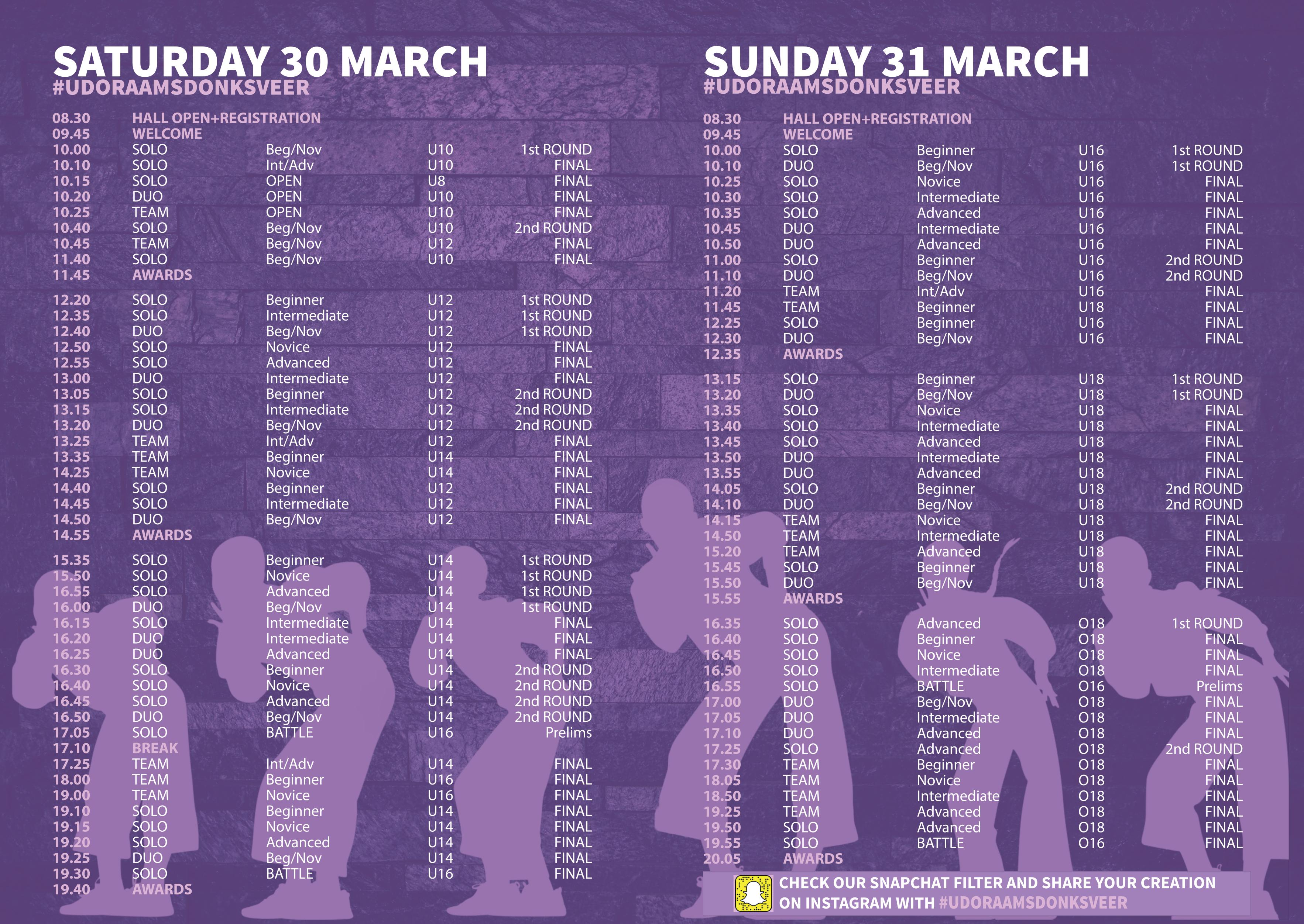 Schedule:
Saturday: U10, U12, U14 alle divisies +Teams U16 Beg/Nov+Solo Battle U16.
Sunday:Solo/Duo U16 + Teams U16 Int/Adv + U18+ O18 alle divisies + Solo Battle O16
*Team music must be entered onto the website when registering your team
*Please bring a CD or USB to the event as back up.
Tickets:
€ 10.00 e-ticket up to WEDNESDAY 11 DAYS BEFORE the competition 23.59hr
€ 12.00 e-ticket up to WEDNESDAY BEFORE the competition 23.59hr
€ 15.00 e-ticket from THURSDAY BEFORE the competition 21hr or AT THE DOOR
There are also Weekend Tickets available:
€ 15.00 e-ticket up to WEDNESDAY 11 DAYS BEFORE the competition 23.59h
€ 20,00 e-ticket t/m WEDNESDAY BEFORE the competition 23.59h
Nov
10
2019
Mill, NL
UDO MILL 2019
Nov
24
2019
Uitgeest, NL
UDO UITGEEST 2019