UDO BE

NE

LUX
Street dance competitions in

Be

lgium, The

Ne

therlands &

Lu

xembourg
UDO CORONA NEWS UPDATES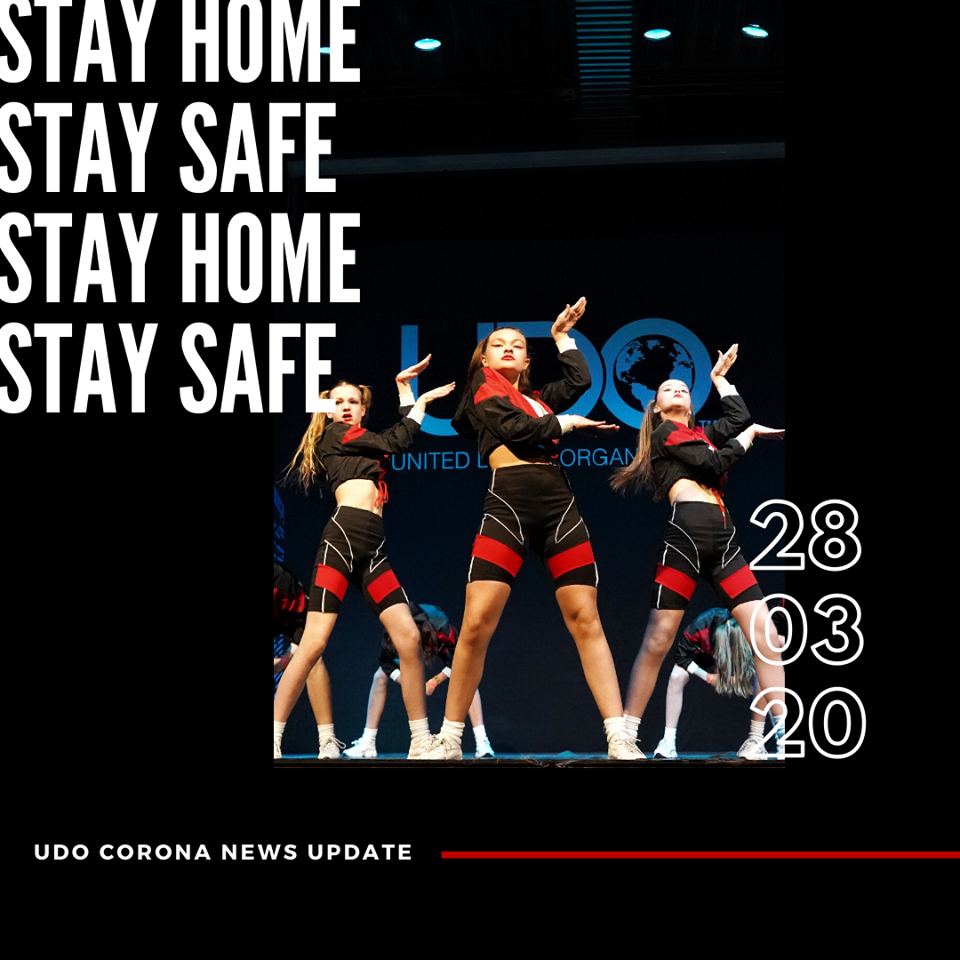 30-04-2020
Hallo UDO Familie,
We hebben een nieuwsupdate voor je!
Allereerst hopen we dat jullie allemaal nog in goede gezondheid verkeren.
Na de persconferentie is het duidelijk dat de wedstrijden UDO Belgisch Kampioenschap, UDO Slagharen en UDO Bobbejaanland niet door kunnen gaan vanwege het coronavirus.
Klik op de link om de nieuwsbrief te lezen
28-03-2020
Allereerst hopen we dat iedereen onder jullie nog in goede gezondheid verkeerd.
Ongeveer een maand geleden kregen we te horen dat het coronavirus zich ook in Europa aan het verspreiden was. Wat toen nog lachwekkend weggewuifd werd als een "griepje", is enkele weken later toch veranderd in een serieuze kwestie, wat resulteerde in het verbod op evenementen. Daarna drong het nog steeds niet bij alle mensen door en heeft de overheid nog strengere regels moeten invoeren. Dat resulteerde voor Nederland in het verbod op het organiseren van evenementen/samenscholingen t.e.m. 1 juni.
In België schakelde de regering ook snel en voerde strenge maatregelen in net 2 dagen voor de wedstrijd in Oudenaarde. Op dit moment geldt nog een verbod op het organiseren van evenementen/samenscholingen tot 19 april, maar we verwachten helaas dat deze ook verlengd zullen worden.

We hebben een brief opgesteld met de meest gestelde vragen, die we als organisatie ontvangen. We hopen dat U hiermee voldoende geïnformeerd bent over de huidige situatie.
Klik op de link hier om onze nieuwsbrief met veelgestelde vragen te bekijken

UDO REGIONALE WEDSTRIJDEN
ALL YEAR | BENELUX

B2S BATTLE
ALL YEAR | BENELUX

UDO BELGIAN CHAMPIONSHIPS
MEI 09–10, 2020| ANTWERPEN, BE

UDO DUTCH CHAMPIONSHIPS
25-26 APRIL , 2020| DRUTEN, NL

UDO MASTERS NL
SUMMER , 2020| SLAGHAREN, NL

UDO MASTERS BE



SUMMER, 2020|LICHTAART, BE
Join UDO for
FREE!
Als member kan je je inschrijven voor de UDO competities
En meld je aan voor de NIEUWSBRIEF en blijf op de hoogte!!
NEWS & PRESS UDO GLOBAL
Read all the latest stories from around the UDO community.
See if you, your dance school or crew have made it into the media or on TV by checking out our press gallery.
From the media? Find all our official Press Releases.